As you near your retirement, or if you are already at that point in your life, you will want to stay active and enjoy everything this period has to offer. After all, there is so much fun to be had! It can be easy to let the days fly by when you have lots of free time on your hands, but senior living can be full of some of the most active, exciting experiences in your life if you want.
At Zerbe Retirement Community, we want to encourage you to make your retirement years the most fulfilling you can through all types of activities. We've put together this list to help you think about all the beautiful things you'll get to enjoy during this less demanding time of your life.
1. Exercise When You Can
Many view senior living as a slowed-down period in life where we become less active, but that shouldn't be the case. It is vital for older adults to get some movement every day to have an active retirement. Staying on an exercise routine can be invigorating as you get older, and it is necessary for remaining healthy.
There are so many options for exercise, not all of which are high intensity or intimidating. Exercising can be as simple as going for a swim, taking a yoga class, or going for a brisk walk with friends each day. It is vital to keep yourself moving as much as you can.
Even gardening can raise your heart rate when you're very excited about your plants. Try to move a little each day to maintain your strength and health.
2. Will Socialization Help?
One of the most important aspects of keeping active during retirement is cultivating your current friendships or starting new ones. When you enjoy friendships, you can spend time with like-minded people and come up with activities to do together, whether a jog through the park or a nice dinner out at your favorite restaurant.
If you have grandchildren, retirement is the time to see them a little bit more often and invest in your relationships with them. You are likely to have a much freer schedule in your retirement, and socializing can fill that time with joy.
Some people like to travel during their retirement. When they explore other parts of the world, they experience new cultures and socialize with new people.
Traveling is the perfect way to keep yourself active because you are doing new things and exciting your brain. It is just as essential to keep your mind busy as it is to keep your body moving. Socialization can significantly help in this respect.
3. Take a Class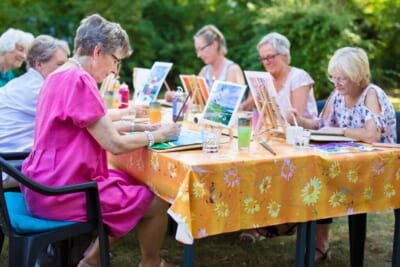 It's essential to our mental health to keep our brains just as active as our bodies, as we've previously mentioned. Taking a class will not only occupy your time, but it will also light up the parts of your brain that keep you sharp and help with memory! Staying mentally fit is crucial to maintaining your standard of living, and it will help you continue to learn new things each day.
Taking classes for things you are interested in is a valuable way to spend your time. Perhaps you have always wanted to learn how to bake professionally, or you'd like to learn how to make clothing for your grandkids out of your old wardrobe.
Maybe you want to become a painter! Learning new skills at a senior living community can keep you occupied and bring a bit of delight into your life. Perhaps you have the talent to share instead of something you want to learn. Consider teaching a class instead of taking one!
4. Volunteer
Improving your health in any way during retirement is an excellent choice, and what better way to do so than by volunteering? Volunteering within your community is a great way to stay active during retirement, and you may find that it gives you purpose and helps keep you on a schedule. Giving your time may also lessen the risk of cardiovascular events because it provides relaxation and a sense of inner peace.
Volunteer work is gratifying, as you find yourself giving your time and effort to causes for which you genuinely care. While you enjoy senior living, you may feel moved to help in your community through soup kitchens, clothing drives, or organizing park cleanups. Volunteering will not only help you feel fulfilled, but it will also actively help your community.
5. Play Games, Read, and Write!
Being active doesn't always mean exercising and learning new skills. Sometimes, taking the time to relax and enjoy a little extra free time can be all the activity you need for a few hours. Playing board games and reading are enjoyable ways to spend your time, and they can help your mind stay alert.
Writing is also a favorite pastime of retirees as they have lived long lives, and many find happiness in writing down their stories. Sometimes, these stories are only for themselves, but others will share them as a keepsake or family heirloom with their families.
However, you don't have to focus on your own life—plenty of people spend their retirement writing other things, like short stories or novels! Worldbuilding for a fictional piece can help keep your creativity at its best as you spend more time focusing on yourself and your interests.
Want to Enjoy an Active, Fulfilling Retirement?
As you end your professional career life, you are probably preparing to enjoy this newly available free time in the next stage of your life. Why not make your retirement as active and fulling as you can, with like-minded people around your age?
At Zerbe Retirement Community, we want you to enjoy senior living to its fullest. Contact us today to learn more about our community and how we can help you stay physically, mentally, and spiritually active. We can't wait to be a part of your retirement!